May 13, 2019
Cooking Lake – Blackfoot Provincial Recreation Area will challenge your bike skills, or provide a relaxing hike through parkland forest and wetlands.  At Islet Lake staging area, you can launch your canoe or kayak to explore the shoreline, islands and marshy areas that are ideal wildlife and bird watching spots. From the Waskahegan, Central and Blackfoot staging areas, you can head out onto trails on horseback.  Cooking Lake-Blackfoot is part of the Beaverhill Biosphere – declared by UNESCO in 2016, the biosphere designation recognizes the area for its conservation of biodiversity and sustainable development practices. 
For star-gazers, Cooking Lake – Blackfoot offers a place away from the glare of city lights to enjoy the night sky. As part of the Beaverhills Dark Sky Preserve, designated by the Royal Astronomical Society of Canada (RASC), this is an area where artificial lighting is limited.  Here, actions are taken to promote the reduction of light pollution, and educate the public about its negative effects.  The Edmonton chapter of the RASC uses Cooking Lake-Blackfoot staging areas for some of their star-gazing events and activities through the year.
Wabamun Lake Provincial Park, a short drive west of Edmonton, has been a popular family spot for decades. Facilities range from picnicking and boat launching to camping. Pile into the car for a short drive to enjoy beach and lakeside activities. The boat launch area is always busy, as there are very few boat launches on this large lake. A lifejacket loaner station offers a limited selection to help boaters be safe on the water.
A network of trails, for hiking or mountain biking, connect group camping areas, campgrounds and beach. The park's sheltered location in Moonlight Bay makes it a perfect spot to hang out with the kids at the playground, have a wiener roast or take a dip in the lake. Recent upgrades to the boat launch and picnic areas help to accommodate the many visitors who come to relax in the sun or play in the water.
Several other nearby provincial parks include Miquelon Lake, where you'll love exploring the many mountain biking and hiking trails. Or you can book a yurt and spend a night or two enjoying campfires, visitor programs, star-gazing and wildlife viewing just a short drive from the city. To the south, Pigeon Lake Provincial Park offers great beach and water activities, trails for biking and hiking, and yurts you can reserve for a unique comfort camping experience. Thunder Lake Provincial Park, near Barrhead is another provincial park you can get to with about an hour and a half of driving. Families return to this popular spot year after year, and even generation after generation, for beach, boating, water activities and late northern sunsets. Another great beach less than 2 hours from Edmonton is at Aspen Beach Provincial Park on Gull Lake. If you want to stay and play, a large campground provides both basic camping as well as RV camping with hookups. All of these campgrounds take reservations at Reserve.AlbertaParks.ca.
Not so well-known around Edmonton are provincial natural areas. These relatively small sites are set aside to conserve habitats, and in some cases, unique species. Most natural areas have no facilities or development of any kind on site, but near Edmonton, a number of them have been so popular with local groups that some basic facilities have been put in place for day use. For a nice walk, check out the Marl Trail at Wagner Natural Area. There is a small parking area, picnic shelter and outdoor toilets.
At Riverlot 56 near St Albert, walk or cross-country ski on a network of trails. There is a small parking lot, but no other facilities.
The Sherwood Park Natural Area is located east of Edmonton off twp 522 and rr 231. This natural area only provides a small parking lot and no other facilities on site. You can go hiking year-round on 3 kms of developed trails. "The Old Edmonton Trail", a wagon track used in the early 1900s, passes through the site. Though small, this natural area attracts birds and other wildlife and makes for great wildlife watching.
A little further away, just outside of Ponoka is JJ Collett, another small oasis of nature surrounded by farming and development. This makes good habitat for local wildlife. The terrain is varied, from a stream and wetlands, to open woodlands and grassy hillsides. There are informal trails for hiking and cross-country skiing. This natural area allows bow-hunting in season. Exercise caution and wear bright colored clothes if you're visiting during bow-hunting season.
Clifford E Lee Natural Area is located SW of Edmonton near Devon. Enjoy the birds and wildlife of a wetland adjacent to the Clifford E. Lee Nature Sanctuary. This area allows hunting, so be cautious when visiting during hunting season.
Located on the southwestern edge of St Albert, Lois Hole Centennial Provincial Park is a day use destination for viewing wildlife, birdwatching and geocaching. This park conserves Big Lake, a freshwater wetland ecosystem adjacent to the cities of Edmonton and St. Albert. The lake is shallow and supports a large nesting colony of Franklin's gulls, migrating flocks of tundra swans, and numerous nesting and migrating waterfowl and shorebirds. It has been recognized as a globally significant Important Bird Area. Boardwalks constructed by Ducks Unlimited Canada are along the east shore of Big Lake.
Located in northeast Edmonton, Strathcona Science Provincial Park is part of the Edmonton River Valley Trail System and connected to Rundle Park by a pedestrian bridge. Trails for walking, cycling or cross-country skiing take you to great views of the river. A downhill ski hill operates in the park in winter, and there is a toboggan hill as well.
Alberta Provincial Parks offer many places and ways to enjoy the outdoors. Escape the city. Nature is near.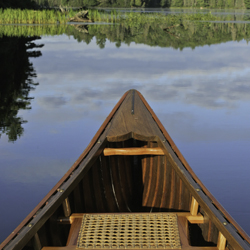 Mary Fitl (Parks Staff)