September 01, 2023
Fall Camping in Provincial Parks
Though the main camping season runs from Victoria Day weekend until Labour Day weekend, many provincial parks and recreation areas remain open until Thanksgiving for campers to savour the great fall weather in September and October. 
Some of our best camping is enjoyed in the fall. September typically has clear blue skies and sunny days. Fallen leaves crunch on the trail and the smell of campfire smoke drifts through the campground. Daylight hours are shorter and so you can take advantage of the dark skies - away from the lights of the cities and do some stargazing. The campfire is a great place to gather after the sun goes down and the air starts to chill. Mosquitoes are usually long gone by September (a major plus). And what would a camping trip be without waking up with a little frost on the tent and the familiar V's of calling geese winging their way to warmer locations.
To prevent freezing water lines, most water service in parks is turned off by mid to end of October, but water may be available somewhere in the park. Firewood may not be re-stocked over the winter and shower facilities may be closed.
It is recommended that you call the park before you venture out in fall, winter and spring, to find out if they are open and what services are available.
Parks in Winter
Some parks remain open through the winter for adventurous souls who camp, cross-country ski, ice fish and enjoy the peace and magic of winter in Alberta.
Or try snowshoeing, fat biking, tobogganing, skating, downhill skiing, snow luge and festivals in Alberta's most exciting season - winter!
Plan a day trip or a winter getaway to Canmore Nordic Centre or Cypress Hills, or discover the Athabasca Nordic Centre near Hinton. Amenities like warm-up shacks, visitor centres, rentals, lessons, even winter camping and comfort cabins are available at a variety of parks. Choosing a park with the level of amenities you're looking for makes your day in the snow easy, enjoyable, and unforgettable.
Events Year-round
Even after summer is over, events do take place in many parks. From racing events at Canmore Nordic Centre, to speaker events at Fish Creek, to The Birkebeiner cross-country ski race at Cooking Lake-Blackfoot, to Family Day celebrations at many parks in February, you can keep busy through the fall, winter and spring.
Advantages to Camping in the Fall and Winter
Earlier darkness is ideal for stargazing. Check out our Dark Sky Guide. 
Cooler temperatures are better for hiking and other day time activities; especially in our badlands parks like Dinosaur and Writing-on-Stone.
The soft sunlight of fall and winter makes for better photography.
Wildlife are more likely to come into the parks when there are less people and pets.
No crowds and a quieter atmosphere.
No mosquitoes!
Some Important Differences in Fall and Winter Camping
Call before you go *
Dress in layers
Be prepared for all kinds of weather
Reduced services in campgrounds
You may need to bring firewood
You may need to bring potable water
* For general information or to get off-season phone numbers for a park visit www.albertaparks.ca or call 1-877-537-2757.
Visit our Fall, Winter and Spring Camping page to see extended camping season campgrounds across the province.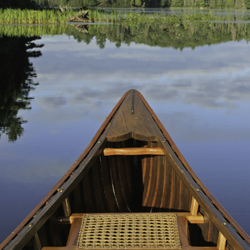 Mary Fitl (Parks Staff)