August 10, 2023
In Alberta, there are five designated Dark Sky Preserves, the very first was the Beaver Hills, which encompasses Miquelon Lake Provincial Park, Cooking Lake-Blackfoot Provincial Recreation Area and Elk Island National Park. This was closely followed by the Cypress Hills Dark Sky Preserve that encompasses Cypress Hills Interprovincial Park, in southeastern Alberta and southwestern Saskatchewan. The newest Alberta Dark Sky Preserve is in Lakeland Provincial Park, just east of Lac La Biche. Parks Canada also has Dark Sky Preserves in Jasper and Wood Buffalo.
Photo Credit: Jean-Pierre De Villiers
All of these Dark Sky preserves provide a variety of opportunities for visitors to come and star gaze in comfort. In Cypress Hills Provincial Park just south of Medicine Hat, you can camp in cozy tent friendly basic campsites, full service RV sites, or a backcountry hut. In the summer and fall the huts are accessible by car, or you can choose to hike in using the trails and roadways. During the spring and winter access is limited to ski or snowshoe only.
In Lakeland Provincial Park, camp in quiet, lakeside campgrounds at Touchwood, Pinehurst, Siebert or Ironwood Lakes, or get an even more remote and dark sky experience when you launch your canoe on Alberta's only lake canoe circuit. Paddle away into Lakeland Provincial Park where you can find your own camping spot along the shores, or even on an island. Watch a spectacular northern sunset, and then wait for the star show as the darkness deepens. Nearby, at Sir Winston Churchill Provincial Park, you can stay in comfort in a fully furnished cabin, complete with a deck and campfire area with bench seating.
Bring your tent or RV to the campground at Miquelon Lake Provincial Park, or book a comfortable yurt for your star-gazing getaway. If you just want to escape of the glare of city lights near Edmonton for an evening of star gazing without spending the night, there are several staging areas in the Cooking Lake-Blackfoot Provincial Recreation Area. Used frequently by the Royal Astronomical Society of Edmonton for their observation meetings, this provincial recreation area offers places where you can park safely away from busy roads. There are picnic shelters, campfire pits and vault style toilets for your convenience while you marvel at the star-studded sky less than an hour drive east of Edmonton.
Dark Sky Preserves are designated areas located all over the world where artificial lighting is reduced to a minimum and the reduction of light pollution is promoted and encouraged. Find out how light pollution affects wildlife and ecosystems, and lots of other interesting information about dark skies at darksky.org.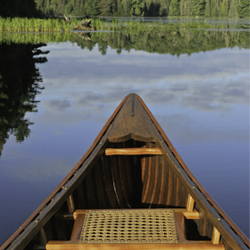 Mary Fitl (Parks Staff)