February 21, 2019
Our parks offer abundant winter recreation opportunities for people of all ages and abilities. Some parks, like Crimson Lake Provincial Park west of Rocky Mountain House, host winter activity days to keep you connected with nature through the colder months.
Snowy Saturdays
Visitors are welcome at Crimson Lake Provincial Park year-round. In winter you can take advantage of the trail system, skating rinks, and discounted winter camping sites.
Snowy Saturdays offer amenities to keep you comfortable all day, no matter the weather. Each Saturday, from January until mid-March, the store is open from 10 am - 3 pm. Staff are available for snowshoe rentals, food and drink sales, and to help you explore new recreation opportunities.
Snowshoe Rentals
If you have never snowshoed before, Snowy Saturdays are a great time to get out and try. Parks staff and volunteers are available to get you started. There are two sizes available for rent: a larger size for adults or older children and a smaller size for younger children or smaller adults. Snowshoes are available at the Crimson Lake Store between 10 am and 3 pm. Each pair is $5.00 or $20.00 for a family.
Keeping Warm
The Crimson Lake Store is the best place to warm up during Snowy Saturdays. The heated store offers hot beverages including coffee, tea, and hot chocolate. Staff and volunteers keep a cozy fire going while the store is open.
If you want to stay outside, but need to warm up, you can set up on the benches by the fire pit. There are fire pits and a picnic shelter with a stove at the day use area closest to the rinks, tobogganing hill, and playground. You're welcome to bring your own firewood, or you can purchase firewood at the Crimson Lake Store for $8.00 a bag.
Food & Beverages
With access to fire pits, a picnic shelter with a stove, and picnic tables, it's easy to cook up some lunch during your visit.
Pack your own food or grab hot dogs, snacks, and drinks from the Crimson Lake Store. Whatever you decide to do, the store has roasting sticks available for use at no charge.
Bathroom Facilities
Crimson Lake Provincial Park has no running water during the winter, but there are vault toilets open throughout the park. This means that if you're out on the trails or spending time on the rink, you'll be close to a bathroom. In the winter months, vault toilets can be cold, so it's best to prepare by wiping down the frosted seat before use.
Payment Options
The Crimson Lake Store accepts cash, credit, debit, or cheque for anything you wish to buy. If you want to winter camp, you will need to self-register at the payment kiosk with either a cheque or cash.
Learn More About Crimson Lake Provincial Park
For more information about the park or Snowy Saturdays please visit the Crimson Lake Provincial Park page or call the Rocky Mountain House District Office at 403-845-8349.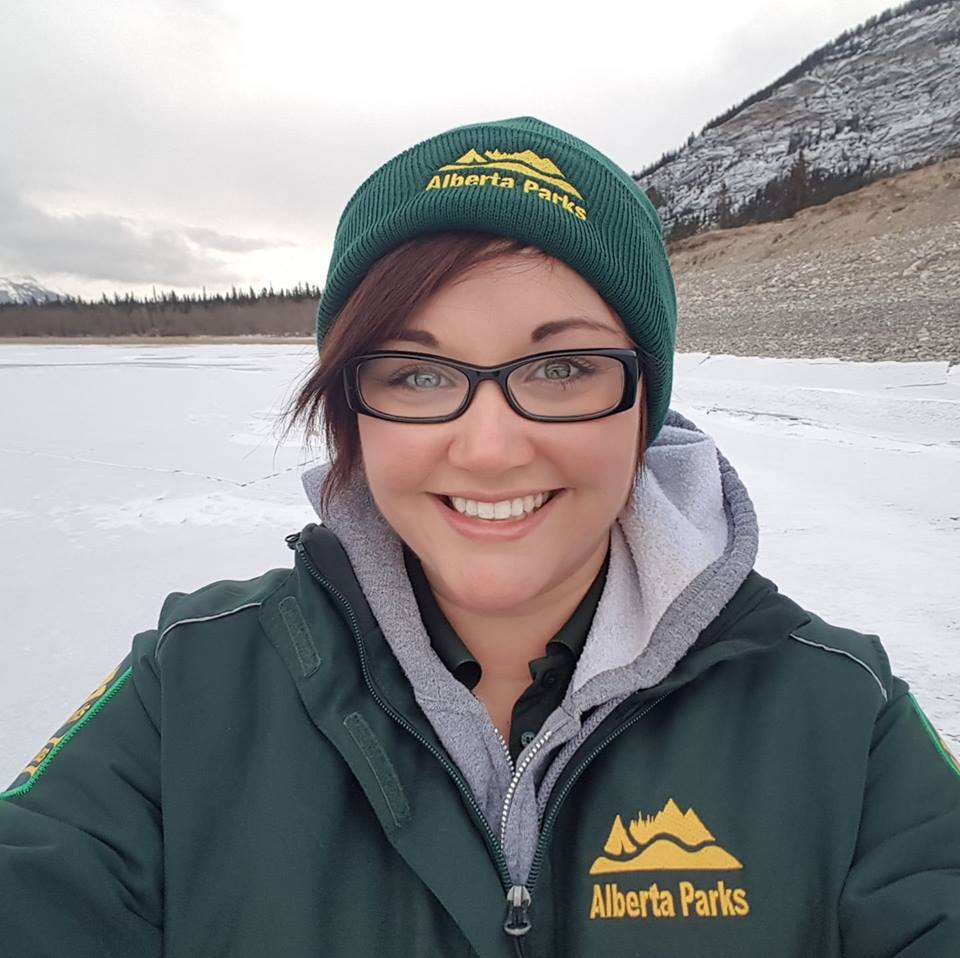 Meagan Smith (Parks Staff)