Volunteering
We are mountain bikers, cross-country skiers, biathletes, disc golfers, orienteerers, runners and hikers. We come from many walks of life and from all over Alberta (and beyond). What we have in common is a love for the outdoors and a deeply held commitment to preserving our wonderful wilderness playground.
Volunteer involvement in trail care and facility ambassadorship is essential to keeping Canmore Nordic Centre the beautiful park that it is. Spend some quality time with fellow outdoor enthusiasts while helping keep our park a place to be proud of. Volunteer days are fun, guaranteed!
Volunteer Opportunities at Canmore Nordic Centre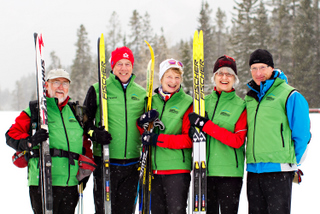 Snow Hosting
Ski and talk to people. What could be more fun than that?
Be an ambassador for the park by providing ski tips, mini-tours and answering questions.
Interact with others on the trails, in the stadiums or in the Daylodge.
You are expected to complete five 4-hour shifts over the course of the ski season.
Training is provided.
To volunteer as a Snow Host, contact the Canmore Nordic Centre at 403-678-2400 or e-mail Canmore.NordicCentre@gov.ab.ca
Summer Trail Maintenance
Help maintain and care for summer trails - design, rehabilitation, maintenance, vegetation removal and garbage clean-up.
Canmore Nordic Centre will provide all necessary tools and supplies.
To volunteer for summer trail maintenance, contact Friends of Kananaskis Country.
Other Volunteering Opportunities