Information: 403-224-2547
Directions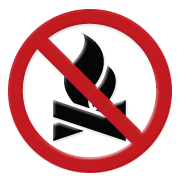 Updated: August 17, 2018
The ban prohibits ALL open fires, including campfires and charcoal briquettes.
Portable propane fire pits and gas or propane stoves and barbeques designed for cooking or heating are allowed.
Park Boundary
Activities

  Geocaching
  Beach
  Camping
  Canoeing/Kayaking
  Fishing
  Group Use
  Hiking - Front Country
  Mt. Biking/Cycling
  Power Boating
  Sailing
  Swimming
  Water Skiing
  Wind Surfing
  Ice Fishing
---
Note Permitted activities may vary within a park. Please confirm details with park staff.
Firewood: Firewood is not sold on-site. There are firewood vendors in the Spruce View area.
Fishing: Rainbow trout pond
Ice fishing: The trout pond at Dickson Point is popular for ice fishing.
Power Boating: For information about Gleniffer Lake water levels, visit the Alberta River Basins Advisories/Monitoring website.
Winter Access: Although the Dickson Point Campground is closed in winter, the area remains open for day use year-round.
Advisories
Public Safety
Resources