Construction Advisory - William Watson Lodge Cabins
There will be cabin construction taking place at William Watson Lodge from April 10th October 31st. Cabins C and D will remain out of commission until the end of October.
Affected Areas
Bear Closure - Grizzly Creek Area
Area west of Grizzly Creek Day Use and Highway 40 is closed due to bear activity. 
Bear season is upon us, please take appropriate precautions when travelling in bear country. Information on bear safety can be found on the Bear Smart page.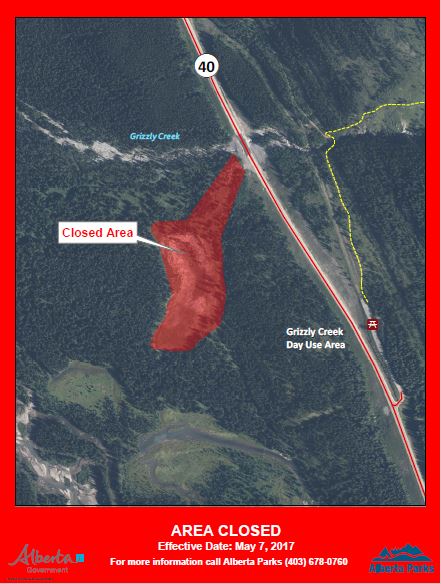 Affected Areas
Construction Advisory - Canyon Day Use Area, Boat Launch and Canyon Campground
Please be aware that the Canyon Day Use and Campground vault toilets remains closed. Final completion of this project is anticipated in Spring 2017.
Affected Areas
Water Advisory - Pocaterra Hut Water System
Please note that until further notice, water is unavailable at the Pocaterra Warming Hut. The bathrooms are closed but an outhouse is available by the parking lot. Potable water is available at William Watson Lodge and the Peter Lougheed Discovery Centre.
Affected Areas
Construction Closure - Canyon Interpretive Trail
Due to construction at the Pocaterra Dam on the north end of Lower Kananaskis Lake, the Canyon Interpretive Trail is closed until further notice.