First Nations Interpretation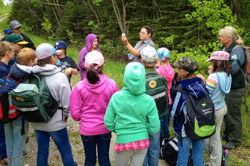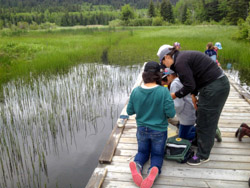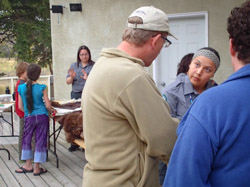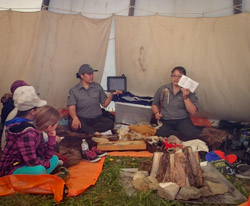 Background
The traditional Blackfoot name for Writing-on-Stone is Áísínai'pi, meaning "'it is pictured". 
Áísínai'pi is the most sacred place for the Blackfoot.  Park management honours the tradition of First Nations leadership through regular meetings with a trusted advisory group of Blackfoot elders. 
The significance of Writing-on-Stone is formally recognized through its designations as a Provincial Park and a National Historic Site.  It is also a site considered worthy of World Heritage Site status.
The vision of Alberta Parks is to inspire people to discover, value, protect and enjoy the natural world for current and future generations. One of Parks Division's priorities is Aboriginal engagement.
Alberta Tourism, Parks & Recreation leads the Aboriginal Tourism Initiative, which encourages the development of cultural tourism experiences. Alberta's new Tourism Plan highlights the opportunity to honour First Nations heritage through new visitor experiences and programs. 
First Nations Internship
Alberta Tourism, Parks & Recreation partnered with Alberta Aboriginal Relations and Canadian Badlands Limited to implement the First Nations Internship in 2013.
The intent was to deliver new public programs, raise the cultural awareness of staff and visitors, and provide outreach programs at parks.
The two Interns visited and shared their traditional knowledge with staff at Writing-on-Stone Provincial Park, Dinosaur Provincial Park, Beauvais Lake Provincial Park and Cypress Hills Provincial Park.  They shared their cultural and personal stories with more than 4,000 visitors over the summer.
The Interns brought both traditional and western knowledge to their work. Their interpretive programs incorporated authentic replicas of Blackfoot artifacts to bring the past to life, as well as technologies relevant to today's visitors.
This program model successfully brings people together and connects them to each other and the land.  First Nations participation adds authenticity to Writing-on-Stone, enhancing truth and credibility.  This program is a win-win-win for parks, tourism and First Nations organizations and communities. 
The First Nations Internship program has been recognized by the Institute of Public Administration of Canada (IPAC).
More Info
---
Updated: Jul 4, 2017