Palaeontology & Research Projects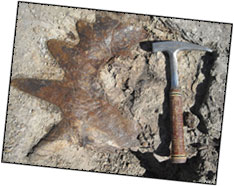 Dinosaur Provincial Park is more than just a vacation destination. Scientists also seek answers to paleontological, biological, archaeological and geological questions posed by the incredible resources found here.  All research and collection activity that occurs in Dinosaur Provincial Park requires a  permit.  The permit must be obtained prior to the start of any research or collection project.  
Historic connections between science and the park date back over 120 years. Joseph B. Tyrrell's 1884 survey of the Drumheller region for the Geological Survey of Canada brought attention to the Red Deer River valley. In 1888, Thomas C. Weston was the first person to explore and publish his findings on the section of the valley that is now Dinosaur Provincial Park. That legacy is carried on today by dedicated scientists, students and volunteers from both natural and cultural history disciplines.
Visitors are most familiar with the research program led by the Royal Tyrrell Museum in the park.  However, universities and museums in Canada and around the world have conducted field studies.  These range from just a few weeks to multi-year projects.
Below is a table of recent and archived reports from agencies and individuals.
Palaeontology
Summer fossil discovery and field research
Royal Tyrrell Museum
2014  2013  2012  2011  2010  2009  2008  2007  2006  2005  2004  2003  2002  2001  2000  1999 
Snake Mortality
Road mortality of prairie rattlesnakes and bullsnakes
Adam Martinson, MEDes
Webpage
Bat Hibernation
Understanding Prairie Bat Hibernation:
Why do bats fly in the winter?

Brandon Klüg, MSc - PhD Graduate Researcher

Webpage
Palaeontology
University of Alberta Fieldwork in DPP
University of Alberta
2013 2012 2011 2010  2009