Come join the fantastic fun we're having in the Cypress Hills this winter.
Ski the Frozen Fescue Cross-country Loppet on March 2.
Or cross-country ski on the approximately 30 km groomed trails. Check our ski trails grooming report.
If downhill is the way you ski, head to Hidden Valley Ski Resort.
Snowshoeing is another option.
Or try kicksledding - an alternative to cross-country skiing that offers more stability. Fun for you alone or with your child sitting up front or standing on the runners.
Rent a kicksled, cross-country ski gear and snowshoes at the Visitor Centre.
Looking to take your toboggan experience to the next level? Grab a plastic saucer and check out our "backyard luge" in front of the Learning Centre. Bring your own sled or borrow one of ours.
We've turned the Old Baldy Campground loop is turned into a 750 metre long skating track. Parking is available at the entrance to the campground.
Still looking for winter recreation options? For hardy souls, we have winter camping and ice fishing (conditions permitting).
You can also bring your snow bike for fat biking in the park. (Remember that tires must be 3.7 inches or wider and skiers have priority on all trails.)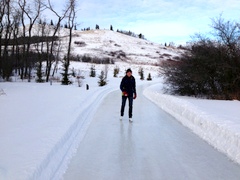 The Learning Centre, located across from the marina, is open as a warm-up building on weekends this winter from 9:30 a.m. to 4:00 p.m. With washrooms and a half kitchen, this is a great place to get warm or enjoy lunch.
We rent two backcountry huts for overnight accommodation during winter. Ski or snowhoe into the huts, located on top of the plateau approximately 3.5 km from Elkwater. Tom Trott Backcountry Hut has a capacity of 8 people and costs $80/night. Medicine Lodge Backcountry Hut sleeps up to 10 people and costs $100/night.