Fort Vermilion Campground
Operator: Mackenzie County #23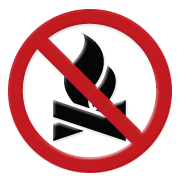 Updated: May 22, 2019
The ban prohibits ALL open fires, including campfires and charcoal briquettes.
Portable propane fire pits and gas or propane stoves and barbeques designed for cooking or heating are allowed.
This small campground is found in Fort Vermilon Provincial Recreation Area, 10 km west of Fort Vermilion off Hwy. 88. Located on the north shore of the Peace River, this spot is a good rest stop for those exploring the far northern parts of Alberta. It is a good place to view northern bird species.