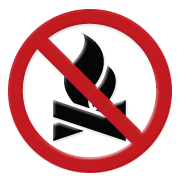 Updated: May 24, 2019
The ban prohibits ALL open fires, including campfires and charcoal briquettes.
Portable propane fire pits and gas or propane stoves and barbeques designed for cooking or heating are allowed.
Notice - Flooding of Hiking Trail Sections
Notes
Water is available from a hand pump. Although Alberta Parks strives to maintain water quality, we recommend that you bring your own drinking water.