Bleriot Ferry Campground
Information: 403-742-7516
Directions to Campground
This little riverside campground is  perfect for relaxing  among the giant cottonwoods. There is easy access to the Red Deer River for canoeing, kayaking, fishing, or just floating along through the winding badlands.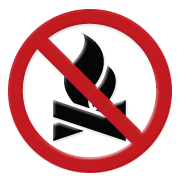 Updated: August 10, 2018
The ban prohibits ALL open fires, including campfires and charcoal briquettes.
Portable propane fire pits and gas or propane stoves and barbeques designed for cooking or heating are allowed.
Camping: May 18 - Oct 11 (First Come First Served)
Site Type
Campsites
Rate / night
Unserviced
28
$ 21
Amenities
Firepits
Shelter - Picnic
Pit/Vault Toilets
Water - Tap
Notes
Firewood Firewood is not available on site.
Water Potable water (limited supply) is available from a tap located on the side of the tall storage building during the summer season.  From mid-September until the campground closes, potable water is not available. Camping fees are reduced during this period.
---
Note:
Any maps and map views are for general information only. Do not rely on them for navigation or to determine legal boundaries.