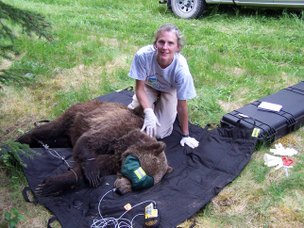 Melanie Percy, MSc
Melanie is based in Canmore.
Major Responsibilities / Research Interests
Melanie is responsible for supervising and directing the Park Ecology Program in Kananaskis Region.  Working in the field of conservation biology in the Rocky Mountains since 1994, she has a particular interest in
The impacts of human activity on species, habitats and ecological processes
Large carnivore biology, behaviour and conservation
Habitat fragmentation, road ecology, and wildlife movement corridors
The application of science to protected areas management and policy
The impacts of climate change on Alberta's native biodiversity and the implications for protected areas management
Collaborating with industry and other stakeholders to achieve conservation objectives
Mentoring students in the field of conservation biology and applied ecology through placement programs and internships
Fostering a stewardship ethic and appreciation for wildlife and park resources in park visitors and the general public
Melanie's experience working in both federal and provincial levels of government, private industry and with environmental non-government organizations has provided a well-rounded foundation for understanding and solving complex land management issues.  As the Senior Park Ecologist for the Kananaskis Region, her responsibilities include
Designing and implementing applied research and monitoring projects to address park management and resource conservation issues
Providing scientific and technical advice to regional staff and management concerning wildlife, vegetation and vegetation management, prescribed fire, grazing, environmental assessments, ecological processes and invasive species
Representing Kananaskis Region and Parks Division on interagency and intergovernmental committees dealing with resource, environmental and land management issues that impact Alberta's protected areas
Collaborating with other provincial science staff in the development of best practices and protected areas policy
Overseeing research and collection permitting for Kananaskis Region
Assisting in the development of park management plans and contributing to regional planning processes
Committees and Working Groups
Alberta Biodiversity Monitoring Institute (ABMI) Biodiversity Management and Climate Change Adaptation Project Steering Committee
Bow Corridor Ecosystem Advisory Group (BCEAG)
Canadian Parks Council (CPC) Climate Change Working Group
Central Rockies Ecosystem Interagency Liaison Group (CREILG)
Crown of the Continent Ecosystem - Crown Managers Partnership Forum
Westslope Cutthroat Trout Recovery Team
Selected Publications
Duke, D.L., M. Hebblewhite, P.C. Paquet, C. Callaghan, and M. Percy. 2001. Restoring a large carnivore corridor in Banff National Park. pg 261-75 in: Large Mammal Restoration: Ecological and Sociological Challenges in the 21st Century. Island Press, Washington DC.
Hebblewhite, M., M. Percy and R. Serrouya. 2003. Black bear (Ursus americanus) survival and demography in the Bow Valley of Banff National Park, Alberta. Biol. Cons. 112(3): 415-425.
Hebblewhite, M., M. Percy, and E.H. Merrill. 2007. Are all global positioning system collars created equal? Correcting habitat-induced bias using three brands in the Central Canadian Rockies. J. Wild. Manag. 71(6): 2026-2033.
Percy, M.P. 2003. Spatio-temporal movement and road-crossing patterns of wolves, black bears and grizzly bears in the Bow Valley of Banff National Park, Alberta. MSc. Thesis. University of Alberta. 127 pp.
Contact Information
Melanie.Percy@gov.ab.ca
Phone: 403-678-5500 Ext: 231
Provincial Building, Second Floor
800 Railway Avenue
Canmore, Alberta
T1W 1P1