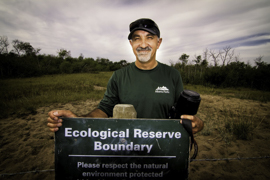 Dragomir Vujnovic, BSc
Dragomir provides professional expertise and collects the best available scientific information on animal species to support evidence-based decision-making involving biodiversity, species at risk and habitat within lands managed by Alberta Parks. He collects and provides scientific information for systematic conservation planning in parks and protected areas. Dragomir identifies and supports independent and collaborative academic-based research which contributes to advancing the management and conservation of parks and protected areas.
Major Responsibilities / Research Interests
Surveying vertebrate diversity in the provincial parks system and its relationship with habitat and different human uses
Supporting and improving the Research and Collection Permitting process for Parks Division
Applying systematic conservation planning to new and existing sites to provide environmental, social and economic benefits for Albertans
Collaboratively working on species management plans, as well as planning and conducting monitoring programs for species at risk with Alberta Fish and Wildlife
Leading or collaborating on the development of system-wide policies and procedures to increase provincial consistency related to the ecology program
Coordinating the zoology component of the Alberta Conservation Information Management System (ACIMS), including supervision of contractors
Current and Recent Projects
In some protected areas, there are grazing leases which support vegetation and fire management objectives. At Vermilion Provincial Park, Dragomir is studying the impact of different grazing regimes on the bird component of biodiversity. The results of this survey will help inform appropriate grazing intensity and timing to minimize grazing impact on bird biodiversity.
Conserving biodiversity and ecological integrity is considered a primary goal for parks and protected areas worldwide. The value of "postage stamp" sized protected areas for maintaining biodiversity is sometimes questioned.  However, increasing evidence shows they can be extremely valuable, particularly in landscapes where these pieces of land are connected to wooded patches on private land. Mixed-use landscapes, with combinations of agricultural patches and forested protected areas, can support viable wildlife populations. The project called "Moraine Mesocarnivore Diversity: The biodiversity value of networks of small protected areas within agricultural landscapes" uses the persistence of carnivores to test both the biodiversity and conservation success of these protected areas. Initial analyses of collected data suggest protected areas play a key role in maintaining mesocarnivore diversity in mixed-use landscapes.
Fences are ubiquitous features of agricultural landscapes. They have the potential to reduce landscape connectivity for resident ungulate populations whose attempts can cause costly damage to these fences. The "Wainwright Dunes Ecological Reserve Wildlife Friendly Fencing" project used remote cameras along the perimeter fence of the Ecological Reserve to monitor ungulate crossing at standard and wildlife friendly fences. Project results suggested that modifications to increase fence permeability for ungulates (wildlife friendly fence) result in considerably less damage to the fence and to wildlife.
Selected Publications
Visscher, D. I. MacLeod, K. Vujnovic, D. Vujnovic, P. deWitt. 2016. Human risk induced behavioral shifts in refuge use by elk in an agricultural matrix. Wildlife Society Bulletin (in review).
Vujnovic, K. L. Allen, J.D. Johnson, D. Vujnovic. 2005. Survey of rare vascular plants in Fidler-Greywillow Wildland Provincial Park. A report prepared for Parks and Protected Areas, Alberta Community Development, Edmonton, Alberta. 101 pp. http://www.albertaparks.ca/media/3194640/fidler_greywillow_plant_report.pdf
Vujnovic, K. L. Allen, J.D. Johnson, D. Vujnovic. 2005. Survey of rare vascular plants in La Butte Creek Wildland Provincial Park. A report prepared for Parks and Protected Areas, Alberta Community Development, Government of Alberta, Edmonton, Alberta. 73 pp. http://www.albertaparks.ca/media/3194928/La%20Butte%20Rare%20Vascular%20Plants.pdf
D. Vujnovic. 2001. Preliminary Mammalian Survey in the Area of Marguerite River Crag and Tail, Maybelle River and Richardson River Dunes Wildland Provincial Parks, Alberta. A report prepared for Parks and Protected Areas Division, Alberta Community Development, Edmonton, Alberta. https://www.albertaparks.ca/media/2157223/2000_mammals_of_wildland_parks.pdf
Contact Information
Dragomir.Vujnovic@gov.ab.ca
Phone: 780-427-7159
Fax: 780.427.5980
2nd Floor, 9820 106 St.
Edmonton, AB
T5K 2J6