Aquatic Invasive Species
Alberta waters are at risk of becoming infested with Aquatic Invasive Species. The movement of watercraft into Alberta is the highest risk of infecting our waters.  
If you're traveling with a boat, you must Clean, Drain and Dry all equipment before departing.
What is an Aquatic Invasive Species?
It's a non-native species that threatens the
Diversity or abundance of native species and the ecological health of infested waters
Recreational, agricultural or commercial activities dependent on water in lakes, rivers, streams and canals
Why are Aquatic Invasive Species a problem?
Aquatic Invasive Species are a threat to the economy, especially agriculture, tourism and recreation. They destroy natural lake ecosystems and fisheries.  The management of their impacts could cost millions of dollars each year.
The species of greatest concern in Alberta currently are two mussels and one plant.
Quagga Mussel and Zebra Mussel (Webpage from Ontario's Invading Species Awareness Program)
Eurasian Watermilfoil (Fact Sheet by Alberta Invasive Species Council)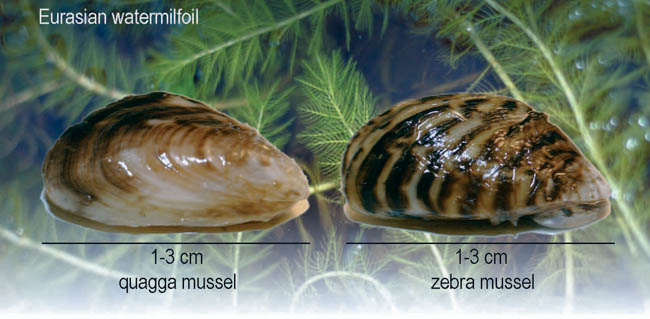 Does Alberta have Quagga or Zebra Mussels, a serious Aquatic Invasive Species threat?
Not yet, let's keep it that way.  Prevention is the most effective way of managing Aquatic Invasive Species.  We currently have some infestations of lower risk aquatic invasive species that are being managed locally.  Purple loosestrife is an example.
How are Aquatic Invasive Species spread?  
AIS are primarily spread through the transportation of watercraft from infected waters to unaffected areas.
Infected lakes have been found in Manitoba (Lake Winnipeg), Utah, Southwest United States and Eastern North America.
Boaters are discouraged from transporting boats from these areas.
What can I do to prevent the spread of Aquatic Invasive Species?
What is Alberta Parks doing to address this issue?  
Alberta Parks staff are monitoring high priority water bodies in every region of the province.
Two inspection teams are working in Alberta Parks in 2014. One team is based in the North East and East Central Regions.  The other is based in the South and Kananaskis Regions.
Aquatic Invasive Species (AIS) Inspectors will provide education at special events.  They'll also conduct boat inspections at various Alberta Parks boat launches in the province.
Conservation Officers and Park Services Rangers are trained in AIS boat inspections.  They are ready to respond if Aquatic Invasive Species are detected.
Alberta Parks is collaborating with Alberta Environment & Parks and other government and external agencies in these efforts.
Where do I call to report something suspicous on my boat or equipment or for more information?
Alberta:  1-855-336-2628 (BOAT)
Montana:  406-TIP-MONT (406-847-6668)
British Columbia:  1-888-933-3722
What additional resources can I access?