Rock Art Tour - All Ages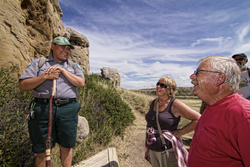 For centuries, First Nations peoples left a record of their culture by incising rock art on the cliffs of Writing-on-Stone / Áísínai'pi.  The Archaeological Preserve (Restricted Access Area) has the greatest concentration of rock art found in the park.
Join a Park Interpreter for a 2 hour guided walk into the Archaeological Preserve.
Learn about the plants, animals and landscapes here, as well as the stories revealed by the rocks of Writing-on-Stone.
The Rock Art Tour runs until the end of August. Check the booking website for availability.
Please do not approach or touch the cliffs or rock art. Petroglyphs are very fragile. They can be easily damaged even by light touching of fingers or tracing paper.
Notes:
The walk on this tour is low to moderately difficult.

This program is NOT wheelchair accessible or stroller accessible.

No smoking or pets are allowed on tours.
Location:  Archaeological Preserve
Time: 10:00 AM
Fee:  $15/Adult, $8/Youth, $5/Child (4-7 years)