Lat: 50.6974936944 Long: -115.114338634 | Directions
Information:

The Hut is located at Pocaterra Day Use Area.  The site is across from the Smith-Dorrien/Spray Trail (Highway 742) access, 1.5 km north of the Peter Lougheed Park Visitor Information Centre.  
For the 2015-16 ski season, hours are 8 a.m. to 8 p.m. daily.
The Hut is heated, with flush toilets, a fireplace, picnic tables and ample parking space.  
Several cross-country ski trails begin here, providing access to an extensive network of cross-country ski trails in the park.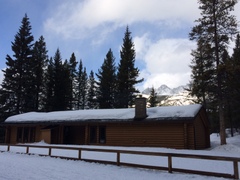 Amenities
---
Note:
Any maps and map views are for general information only. Do not rely on them for navigation or to determine legal boundaries.