Sunset Tour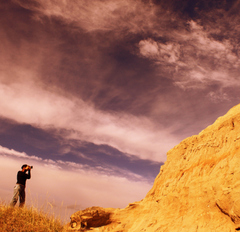 This unique evening tour is designed especially for photographers and people looking for a quieter nature experience. The tour takes advantage of the cooler temperatures and wonderful evening light. You'll be guided into some of the secret areas of the Natural Preserve.  You'll have ample time to get the perfect shot or to simply soak up the natural beauty of the badlands. Locations may include Valley of the Gold, Valley of the Castles, and Valley of the Moon. See the Sunset Tour in this video . Please read information below but click on the link to our Online Tour Booking Site to see the actual tour schedule and to book your seats online ahead of your visit. 
The Sunset Tour is a 2 hour program.
The difficulty level of this tour is "easy"  but it is not wheelchair accessible.
This tour is for ages 14 years and up.
The maximum capacity for this tour is 14 participants.
Due to the variability of sunset times, we cannot guarantee that participants will be able to photograph the actual sunset.
Start times vary from 7:00 pm in May, June, July, August to 6:30 pm mid August, September to 6:00 pm mid/end September.
If the Visitor Centre is closed, please meet the park interpreter and park bus outside the Visitor Centre for ticket pick-up and loading. The tour will leave at the designated time.
No smoking is allowed on tours, including on and off the park bus.
If the backcountry of the park is not accessible due to rain on the day of the program, you will be refunded, but you need to phone and make arrangements for this. Call (403) 378-4344 for information. 
Fee:  $24/Adult, $16/Youth