Fossil Safari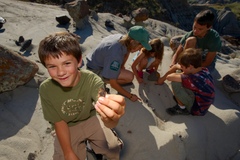 The Fossil Safari provides a hands-on discovery of the Park's rich fossil resource that is accessible only by tour.  Our bus drives to a site in the Natural Preserve where a short walk takes you to discover the secrets of fossil-finding.  Learn techniques for identifying the remains of turtles, fish, mammals and, of course, dinosaurs. No digging is involved and all material is left at the site. This program will appeal to families with children who love dinosaurs!  Watch a video about the Fossil Safari. Please click through to our Online Tour Booking Site for the actual tour schedule (dates and times) and book your seats ahead of your visit. (Make sure to book 'seats' for all family members, even "babes-in-arms" as our park buses can only take 24 passengers total.)
This 2-hour program is rated as "easy" but be prepared for sitting on the ground, kneeling and standing in the hot sun.
The Family Rate can be applied to groups with up to 2 adults and up to 3 children or youths, for a maximum of 5 seats. 
The

Fossil Safari

is highly recommended for families.  Participants under the age of 14 must be accompanied by a paying adult.  "Babes in arms" require a full reserved seat even if they are being held by a parent.
The program is not wheelchair accessible or stroller accessible. 
There is a maximum capacity of 24 participants per program.

For your comfort and safety, please bring at least 2 litres of water, a hat, sunglasses, sunscreen and insect repellent.

Footwear requirement: Sturdy closed toe and heel footwear is required. No sandals or flip-flops are allowed.

The Fossil Safari starts at the Visitor Centre.


Pick up your tickets at the Information Desk in the Visitor Centre at least 30 minutes prior to the scheduled start time. All tours leave on time. Late arrivals will not be refunded.

Parking is located at the concession parking lot just down from the Visitor Centre (2 minute walk).

No smoking is allowed on tours, including on and off the park bus.
Fee:  $15/Adult, $8/Youth, $4/Child, $38/Family