Backcountry Huts - Tom Trott & Medicine Lodge
Lat: 49.635481 Long: -110.325898 | Directions
Information: 403-893-3833

Experience the beautiful setting of Cypress Hills Provincial Park year-round in the comfort of a backcountry hut.  Try an alternative to tent or trailer camping with the 6-person Spruce Coulee Hut, the 6-person Tom Trott Hut or the 6-person Medicine Lodge Hut. These huts offer basic amenities and are located close to viewpoints, trails and the Elkwater townsite.  During summer/ fall, the huts can be accessed by vehicle. In spring/winter, access is by ski or snow shoe only.  
Rates & Season
Medicine Lake Lodge Hut
Rate:  $80/night
Maximum Capacity:  6 people
Season:  Year-round
Tom Trott Hut
Rate:  $80/night
Maximum Capacity:  6 people
Season:  Year-round
Reservations
Phone: 403-893-3833
Register at the Visitor Centre.
If you'll be arriving late, call the Visitor Centre (403-893-3833) to make arrangements to access the hut.
Features
Amenities
Dormitory-style sleeping units - single over single bunk beds with vinyl mattresses
Wood stove
Axes and shovel
Sink, 5 gallon pail
Pots, pans, plates, bowls, cups and utensils
Dish soap, washcloths, tea towels, drying rack
Kettle
Dining table & chairs
Close to toilets
What to Bring 
Cooking stove and fuel
Food & water
Bedding/sleeping bag
Towels & toiletries
Matches & newspaper for lighting wood stove
Flashlights and/or lanterns
Appropriate clothing and footwear
Cell phone
Notes
Drinking water is not provided.
Grey water (e.g. dish water) must be disposed of in the pit toilet.
Please pack out garbage and dispose it in receptacles provided elsewhere in the park.
Access
Summer/Fall: Accessible by vehicle
Winter/Spring: Accessible by ski or snowshoe only
From: trailhead for Spring Creek Cross-Country Ski Trail System

Skiing distance:  5 kms
Elevation gain:  0 m
Approximate time:  2 hours

From: Visitor Centre in Elkwater townsite

Skiing distance:  5-6 kms
Elevation gain:  200 m
Approximate time:  2-3 hours
Rules
Bookings can be made up to one year in advance.
Pay and check-in/check-out at Visitor Centre.
Check-in time is 2:00 p.m.  Check-out time is 12:00 noon.
Cancellation policy: Cancellations must be made no less than 48 hours prior to check-in time.  Cancellations may only be done by calling 403-893-3833.
Pets are not allowed in or around the buildings (with the exception of service dogs).
Smoking is strictly prohibited inside the buildings.
More Info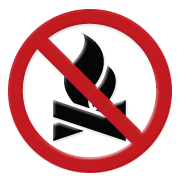 Updated: August 01, 2017
The ban prohibits ALL open fires, including campfires and charcoal briquettes.
Portable propane fire pits and gas or propane stoves and barbeques designed for cooking or heating are allowed.
Amenities
---
Note:
Any maps and map views are for general information only. Do not rely on them for navigation or to determine legal boundaries.