Advisories & Public Safety
Notice - Flood Repair Update
Posted:  September 10, 2014 @ 2:12 PM
All day use and facility areas in Fish Creek Provincial Park are open.
Many areas are still impacted by flood debris, heavy erosion and other flood related damages. This means there are still localized pathway closures and limited access in some areas.
Clean-up of debris along pathways adjacent to the Bow River from Mallard Point to the Hull's Wood area is commencing. Park users are asked to watch for localized trail closures, obey all signs and stay clear of equipment working in these areas.
Bridge #14 over the Bow River is now open.  Connecting pathways, including the east side pathway at Mackenzie Meadows, are also open.
Click on the map below to download the pdf.  Areas in Yellow are open but there is still a great deal of debris so travel with caution.  Areas in Orange remain closed.
If you have any questions regarding flood recovery work, closures or travelling through the park, please call the Bow Valley Ranch Visitor Centre at 403-297-5293.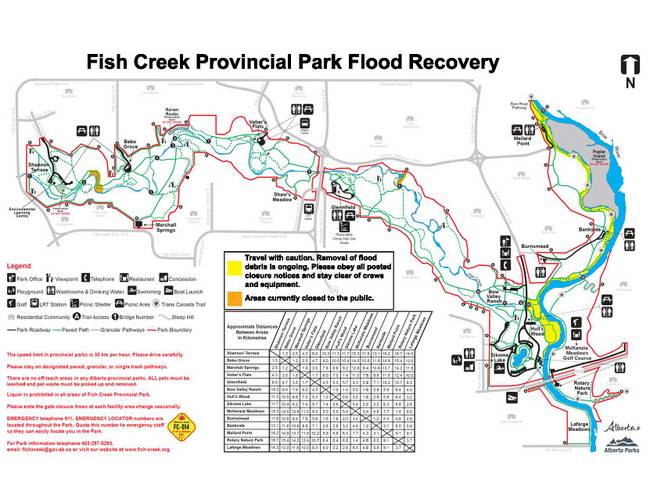 Advisories:
Fish Creek PP
  -  
Kananaskis Country
  -  
All Parks