Sunset Tour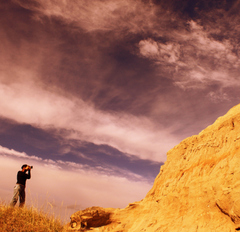 This unique evening tour is designed especially for photographers and people looking for a quieter nature experience. The tour takes advantage of the cooler temperatures and wonderful evening light. You'll be guided into some of the secret areas of the Natural Preserve.  You'll have ample time to get the perfect shot or to simply soak up the natural beauty of the badlands. Locations may include Valley of the Gold, Valley of the Castles, and Valley of the Moon. Tips and tricks for photographing the badlands will be provided.
Notes
The Sunset Tour lasts 2 hours.
The difficulty level of this tour is "easy."  It is not wheelchair accessible.
This tour is for ages 14 years and up.
The maximum capacity for this tour is 12 participants.
Due to the variability of sunset times, we cannot guarantee that participants will be able to photograph the actual sunset.
Start times vary from 7:00 pm in May, June, July to 6:30 pm in August, September to 6:00 pm mid/end September.
If the Park Visitor Centre is closed please meet the park interpreter and bus outside the VC for ticket pickup and loading for this program. The tour will leave on the designated time.
See the Sunset Tour in this video on comfort camping in Dinosaur Provincial Park.
Fee:  $24/Adult, $16/Youth