Centrosaurus Quarry Hike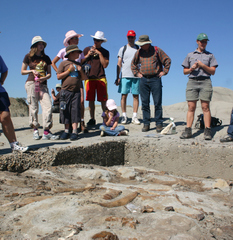 This hike is your best opportunity to see the unequalled concentration of dinosaur fossils that makes Dinosaur Provincial Park world famous. You will journey through rugged streambeds and over sandstone ridges to reach a former dig site.  As you investigate the clues these fossils provide, you will be challenged to come up with your own theory to explain their mass death.
Notes
This program last 2.5 hours and is rated as moderate to difficult.
Participants must be at least 7 years old for this hike. No babes in arms/backpacks or toddlers allowed on this hike.
The capacity for this hike is 24 people. 
This program is not wheelchair accessible.
For your safety and comfort, please bring water,a hat, sunscreen and insect repellent. Participants must wear sturdy closed toe and heel footwear. 
No pets allowed on tour programs or in Park Visitor Centre. Pets allowed in park and campground while on a leash and under their owner's control. 
Location:  Leaves from Park Visitor Centre using park bus(es) to access trailhead in Natural Preserve
Fee:  $18/Adult, $8/Youth, $44/Family