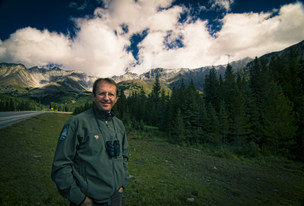 John Paczkowski, MSc
John is a biologist who has concentrated his career on wildlife research and conservation, mainly with large carnivores. John uses wildlife research as a lens to focus decisions on the protection and management of Alberta parks and adjacent lands. He welcomes collaboration with other scientists, students and the public.
Major Responsibilities / Research Interests
John's responsibilities and research interests focus on
Researching the distribution and abundance of wildlife in Kananaskis Country
Coordinating field research for projects in Alberta parks and adjacent protected areas and provincial lands
Developing strategies and actions to mitigate potential conflicts between wildlife and humans
Coordinating and mentoring students from Canada and elsewhere for work placements
Maintaining and monitoring biodiversity and connectivity of species in the Central Rockies Ecosystem
Improving wildlife chemical immobilization and handling techniques by Parks Division staff and scientists
Working to improve Alberta Tourism, Parks & Recreation's environmental review process
John is a member of the Bear Specialist Group of the International Union for the Conservation of Nature.
Past and present research include
Eastern Bow Corridor Wildlife Corridor Study

Winter transects and backtracking
Camera study
Elk ecology study

Eastern Slopes Predator Project surveys predator communities along the East slopes of the Rockies to model species occupancy in relation to habitat and landcover. Wolverine are a focal species of this project which was established in 2011. It is a collaborative effort of Alberta Tourism, Parks & Recreation, Parks Canada, Alberta Innovates Technology Futures and the University of Victoria.
The Eastern Bow Valley Wildlife Corridor Study - Winter tracking and monitoring summarizes winter track transect and tracking data for several species including wolves, cougar and lynx. Tracking data was used to model the probability of occurrence of these species throughout the study area. Resource selection models were created for the Eastern Bow Valley Corridor.
The Eastern Bow Valley Wildlife Camera Study - Wildlife cameras were deployed for 3.5 years in a critical wildlife corridor. 641 sites were sampled (23,078 camera sample days). The results provide corroborating evidence to better understand the distribution and occurrence of species in the Eastern Bow Corridor and to identify key biodiversity hotspots critical to wildlife species. This study was a collaboration of Alberta Tourism, Parks & Recreation, Lafarge Canada and World Wildlife Fund.
The elk ecology study is a collaborative effort with the University of Calgary. Twenty-two elk were fitted with GPS collars that collect hourly locations on the movement and habitat use of elk in the Bow Valley. These data will help scientists better understand corridor use, and help plan corridors and highway crossing structures.
A study of wildlife crossing structures study built to mitigate wildlife mortality on the Trans-Canada Highway has been conducted jointly with Alberta Sustainable Resource Development since 1999. Track pads and covert infrared cameras collect data on wildlife and their behaviour as they use these structures. This provides land managers with information to make improvements on existing and future mitigations.
Selected Publications
Eastern Bow Valley Wildlife Corridor Study: Wildlife Camera Study-Summary Report, Alberta Tourism, Parks and Recreation, Parks Division, Canmore, Alberta. January 19, 2011.
Eastern Bow Valley Wildlife Corridor Study: An Analysis of Winter Tracking and Monitoring. Final Report. Prepared by: Alberta Tourism, Parks and Recreation, Parks Division. Canmore, Alberta. November 24, 2010.
Contact Information
John.Paczkowski@gov.ab.ca
Phone: 403-678-5500 Ext. 238
Provincial Building, Second Floor
800 Railway Avenue
Canmore, Alberta
T1W 1P1