Jack & Marion Whitworth, Menno & Margaret Froese, Jim & Peggy Wiebe - 2015 Recipients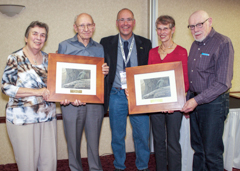 Jack and Marion Whitworth are like a tree whose branch tips keep dividing to bear more fruit.
They started out volunteering in Bow Valley Provincial Park in 2007, and over the past eight years, they have recruited several friends from their community of Canmore, to join their quest of supporting parks.
Five years ago, together with their friends Menno and Margaret Froese and Jim and Peggy Wiebe, they took on the regular task of monitoring wildlife cameras that are permanently installed at two underpasses and five jump-out locations along the trans-Canada Highway.
Every month - rain, shine, sleet, freeze or flood (as it turned out in 2013), they change the batteries and camera cards at the seven sites.
Community, contribution, learning and physical activity outdoors are all factors of long-term health and happiness in our senior years, and these three couples offer a great role model in all these themes.
As a group, and as individuals, they are part and parcel of an Alberta Parks team, in a community of care, that pulls for a common purpose.